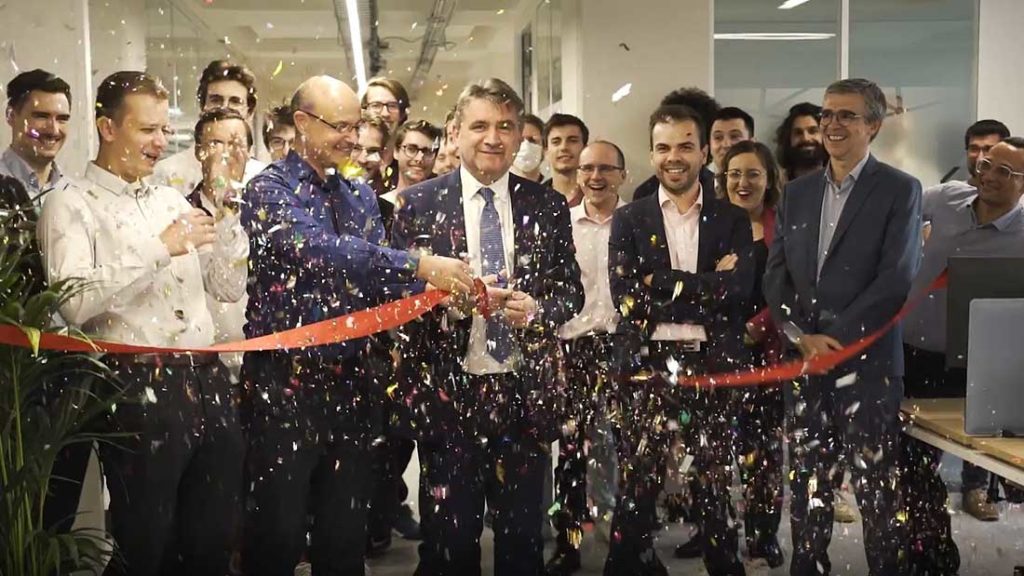 ADVANS Group Lyon Relocated
ADVANS Group (companies ELSYS Design, AViSTO and MECAGINE) doubled the size of its Lyon premises to follow the growth of its activities. The new premises were inaugurated on October 12th; a company video and interviews of employees were filmed on this special day.
Lyon, November 29th, 2022 – At the end of summer, ADVANS Group left its former offices at PATIO, 37 rue Louis Guérin, to join the Parhelion building, located at 12-14 avenue Antoine Dutrievoz, in Villeurbanne.
The new premises consist of nearly 400 sqm of modern, welcoming spaces that take into account the new ways of working (flex office, video conferencing tools, etc.).
They were inaugurated on October 12 with the employees during a celebration event in the presence of Radomir Jovanovic, the founding CEO of ADVANS Group, Lionel Carré, the Human Resources Director, and Olivier Kuntz, the Regional Director.
These new premises follow the strong increase in the technical teams, a growing part of it which is allocated to projects carried out from the group's premises within the framework of service centers in the fields of embedded electronics design and complex application software development.
ADVANS Group Rhône-Alpes
ADVANS Group Rhône-Alpes, which has a second design center in Grenoble, supports local and national industrial players in the design of their products, especially in the fields of the Internet of Things.
Its core expertise lies in:
Electronic board, FPGA and critical embedded software – ELSYS Design
Application software development, DevOps and cybersecurity – AViSTO
Mechanical and mechatronic design – MECAGINE
Video content
On October 12th, the day of the opening, a film crew came to the new premises to prepare a company video and interviews with employees:
Valentin, Victor and Cyril, hardware engineers.
Guilhem and Baptiste, embedded software engineers.
Pierre, systems engineer.
Julien, project manager.
Fabien and Yann, DevOps Cloud engineers.
Samy and Florian, business managers at ELSYS Design.
Samuel, Philippe and Adrien, business managers at AViSTO.
The interviews with employees will soon be available on our blog.
The company video can be watched below: